8 Examples of Weather-Related Posts Bound to Produce More Engagement
While I've never seen an official poll of topics most people feel comfortable talking about, I'm sure weather would be one of the leading ones on that list. There are probably a couple of reasons for this:

Everyone understands and has experienced the weather.
Very few people find weather offensive.
You don't need any life experience to have an opinion on the weather.
Weather is a constant. There's always fodder to talk about.

This makes weather an ideal social media engager. In this article, we have eight examples of how your business can use the topic of weather to bolster sales and engage your audience.
Sound a little boring to you?
You'll be surprised by the number of shares these types of posts get.
Poke Fun at the Weather
Even in stressful situations like impending hurricanes, sharing a humorous post that makes fun of the weather or things about the weather or climate can make people feel better and garner lots of shares. One caution, never make fun of the weather if it involves a loss of life. Humor before an event can be a wonderful distraction from the anxious feelings surrounding predictions but humor after someone has fallen victim to it is not.
You can also poke fun of weather-related problems like heat and humidity in the summer.
Invite People to Share Amazing Weather Pictures
From sunsets to thunderstorms, Mother Nature produces some really amazing photo ops. Invite your audience to share their favorites. The easiest way to do that is to ask for a specific kind of photo like "Show us your sunsets" or "Did anyone see the size of that hail last night? Pics please."
Tease Your Audience
Go easy on this one but it is possible to poke a little gentle (emphasis on
gentle
) fun of the kind of common questions you get. Check out this post from a meteorologist in Tampa.
The reason why teasing works is because people think it's funny but they never think you're talking about them. Never single someone out or make a group feel bad.

Tie Your Business Into the Weather
This is a fantastic weather post. As people brace for a potential hurricane they can be on edge. In Florida, it's common to make jokes about hurricane parties. ABC Fine Wine & Spirits tied it all together in an excellent post that got tons of shares.
Post Complaints About the Weather
There are certain weather commonalities we can all identify with like that Ebeneezer Scrooge boss who doesn't understand you'll likely freeze to death if you venture out. You can use a post like this one and ask a question, "Does this seem familiar?"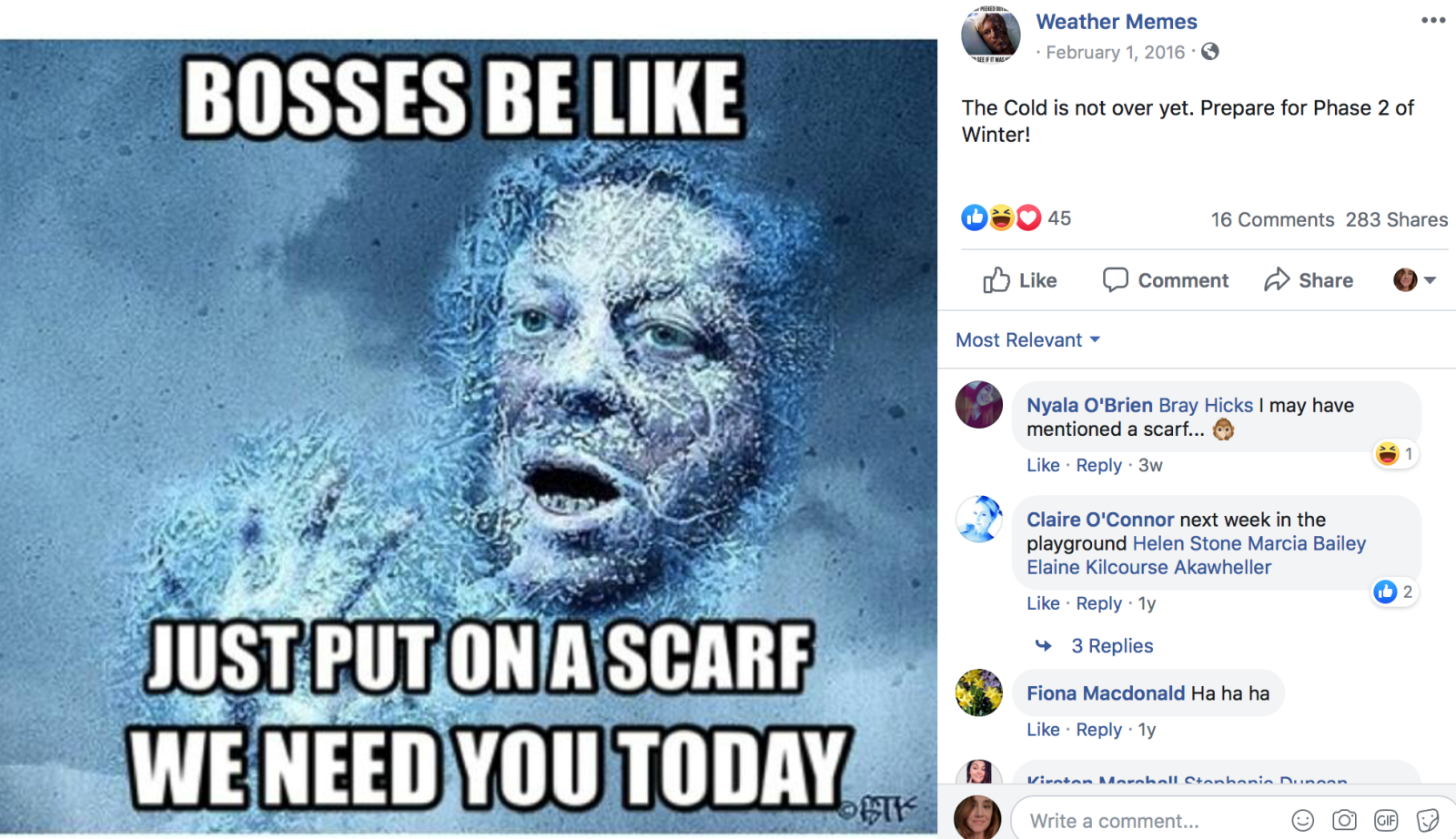 Be a Resource
Sometimes with extreme weather your audience needs resources. This could include evacuation information, needed prep, how-tos, shelter info, or important contact information. If they know you're updating things regularly, they will come to you for information.
A lot of these types of posts can be created easily through design software. Visually-appealing checklists get a lot of shares.
Mask Your Weather Post as a Humorous Advisory
Tie-in what you do with an advisory and give it a little humorous twist like this police department did warning criminals to take it easy during the heatwave. There's also a fun pop culture tie-in at the end.
Show Bigger Things to Be Afraid Of
There's always something worse that can happen. But keep it lighthearted. This is a funny post, unless you've ever experienced a flying cockroach. Then you know just now terrifying it is.
Weather is an incredible way to connect with your audience. Everyone can identify with it and likely has an opinion. Plus, you can never run out of social media content. Mother Nature can keep you fueled forever.
Christina R. Green
teaches small businesses,
chambers, and associations how to connect through content. Her articles have appeared in the Midwest Society of Association Executives' Magazine, NTEN.org, AssociationTech, Event Managers Blog, and WritersWeekly. She is a regular blogger at
Frankjkenny.com
.
As an introverted writer, she's on a quest to bring great storytelling to organizations everywhere while single-handedly combatting the overuse of exclamation points.